Friday, February 18, 2022 / by Bell Home Team
Home buyers and sellers are pet owners!
The majority of home buyers and sellers are pet owners, but surprisingly, a sign of a pet living in the home is not a selling point.
Sixty percent of sellers are people with pets, with 49 percent owning dogs, 33 percent owning cats, and 12 percent owning other pets. But buyers want to visualize themselves (and perhaps their own pets) living in the home, not you and yours.
So what's a pet-owning home seller to do? Here are some tips on how to show your house in its very best light, without help from your furry friends.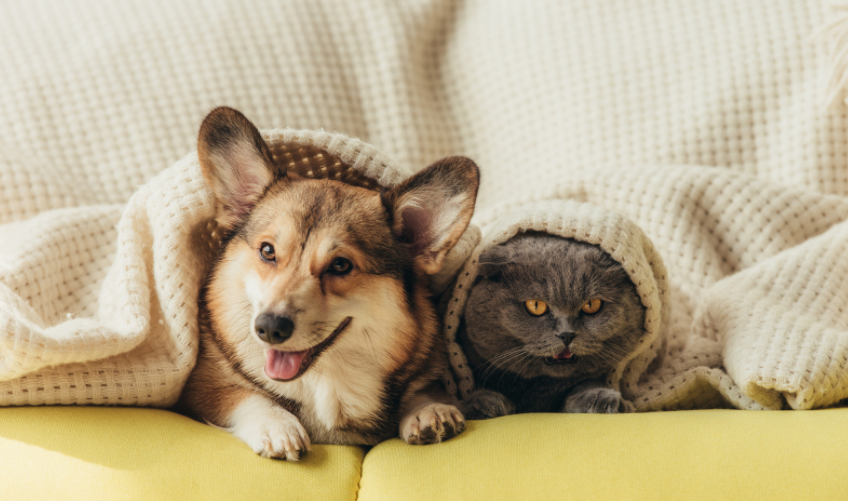 Tips for selling a house with pets
1. Remove all signs of pets
If you do your staging right, a potential buyer who tours your home shouldn't even be able to tell a pet lives there. And remember, buyers will look everywhere, so just tucking your pet's belongings in a closet won't cut it.
2. Ensure marketing materials are pet-free
Just as you should remove all evidence of your pets before an open house or showing, you'll want to do the same thing before you have real estate photographs taken. Also make sure to avoid shooting photos of any pet damage, like ripped window screens, chew marks, or torn up lawns.
3. Don't market your home as pet-friendly
Unless there are permanent structures on your property that can't easily be removed, like a dog run or a chicken coop, don't advertise your home as pet-friendly. If pet-owning buyers come for a tour, they can determine the pet friendliness of your home and neighborhood on their own.
Remember, while pet owners might be excited to see a fully-fenced yard or a neighborhood dog park nearby, you don't want to risk pet-free buyers avoiding your property because they're not interested in the pet-related amenities.
4. Repair damage done by pets
It's easy to overlook the damage that your pet has done to your home over time, since you walk past it every day. But potential buyers view homes with a critical eye, and even small blemishes can make a buyer think you haven't taken good care of the property. Make these repairs before listing!
5. Deep clean before listing
Whether you have a pet or not, doing a deep clean on your home before listing is a must. And when you have a pet, cleaning is even more important, as bad smells like dog odor or cat odor in the house are one of the first things that will send potential buyers running. Consider calling in a professional cleaning service and carpet cleaners to tackle pet smells, stains, hair, and the like.
What to do with a pet during an open house
What is best for the pet?
Every pet is different, and some pets have a harder time with changes in routine than others. And nothing changes a pet's routine more than listing your home. After all, their daily schedule will be turned upside down, there will be new people in and out, plenty of new smells, and furniture and belongings moved around — not to mention having to spend more time than usual away from home. If your animal is easily stressed, or starts showing signs of anxiety when you're preparing to list your house, talk to your veterinarian about how to help your pet cope with the changes.
Open house etiquette
Part of preparing your home for an open house includes removing your personal items, like family photos and keepsakes. This easy staging step helps potential buyers picture themselves living in the house and calling it their home. It's the same reason that the sellers themselves shouldn't be present for the open house, and this goes for your pets and their belongings, too.
Before your open house, depersonalize wherever you can by removing things like dog toys and food bowls. When it's time for the open house, it's time for you and your pets to hit the road. Not only will the absence of your pet make it easier for potential buyers to feel at home, but it also makes it easier for the agent who's hosting your open house to provide access to the whole house, give tours, and focus on answering questions.
Hosting an open house with a pet is risky
There are many reasons why it's a bad idea to host an open house with your pets at home. Even if your pet is normally well-behaved and good with people, the steady stream of unfamiliar faces and smells in your home (especially if you're not there to calm them down) can cause unexpected aggression. Home buyers often shop with their kids, and kids can sometimes trigger strong reactions in pets. Note that some homeowners insurance policies don't cover dog bites, so if this is an issue for your pet, you'll want to take extra care.
Aggression issues aside, there are many people who are either allergic to pets or afraid of them, and you want your home to appeal to as many buyers as possible. Don't limit your potential buyer pool by turning off people who don't like or can't be around pets.
If you can't remove the pet before the open house
If your agent springs an impromptu home tour on you and you aren't able to schedule alternate accommodations for your pet in time, there are a couple of things you can do:
Keep your pet in a cage or kennel, with a note left in a visible location instructing visitors to leave the pet alone.
If you can't get home to retrieve your pet before the tour, leave a cage or kennel for your agent, along with some treats so they have an easier time getting your pet to cooperate.
Don't ever attempt to hide a pet. Shoppers want to see your whole home, including closets, storage areas, and laundry rooms.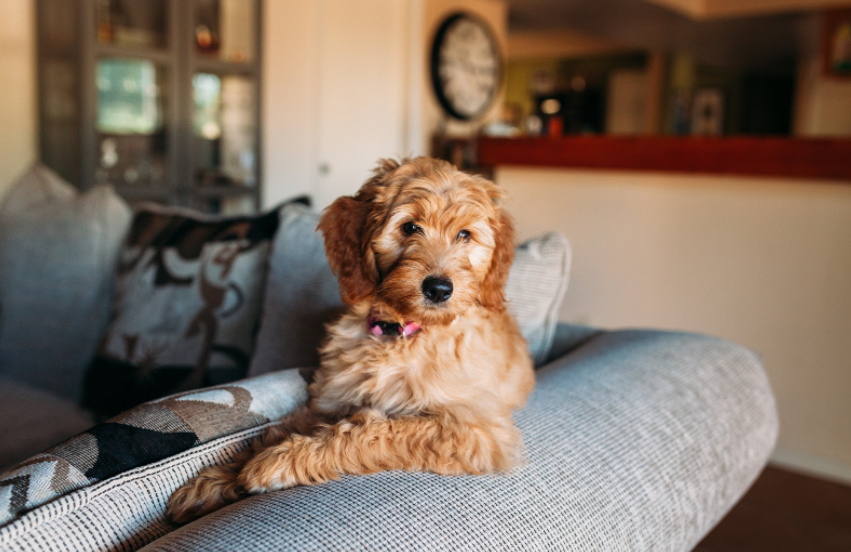 How to get rid of pet stains
Try DIY natural cleaning solutions, like one made with a mixture of equal parts salt, white vinegar, and Borax.
If your carpets are heavily soiled, you may have to remove the floor covering completely and replace it. But you won't be alone — 26 percent of recent sellers report replacing carpet or flooring before listing.

How to get rid of pet hair
Vacuum thoroughly and have a professional cleaning done to remove pet hair from carpet

Remove cushion coverings and launder them, and vacuum out furniture

Hire a furniture cleaning service to remove pet hair from furniture, then keep pets off

Bathe your pet frequently

Brush or comb your pet outside, daily

Vacuum at least once a day, and again before showings (robotic vacuums can be a big help here)

How to get rid of pet odors
Wash everything you can: furniture slipcovers, quilts, comforters, curtains, towels, and throw pillow

Clean your pet's habitat

Remove litter boxes or potty pads

Replace the filter in your HVAC system

Add a HEPA filter to absorb particles and dander

Steam clean furniture and curtains

Avoid air fresheners and scented candles that attempt to mask odor

Invite a friend over to do an honest sniff test
Tips for selling a home with loud neighbor dogs
Sometimes your own pets aren't the ones causing problems. A neighbor's yappy or aggressive dog can make for a not-so-enjoyable open house, showing, or inspection. Consider these actions:
Kindly ask your neighbor to keep their pets indoors whenever possible

Offer to pay for a doggy daycare or a dog walker during your open house — services like Rover and Wag make it easy to find someone nearby

Use plants like bamboo or leafy trees to muffle outdoor noise

Keep windows closed during showings

Install a water feature to create white noise
Your pets are an important part of your family and you will want to make the home selling process as easy and comfortable as possible for them.
Article via: Zillow.com