Thursday, July 8, 2021 / by Bell Home Team
Are you planning on taking a summer getaway? Today on the blog we are highlighting some of I Love NY's best small towns in New York State! With some of them only being a short drive from Syracuse, we hope you can take advantage of getting away this season!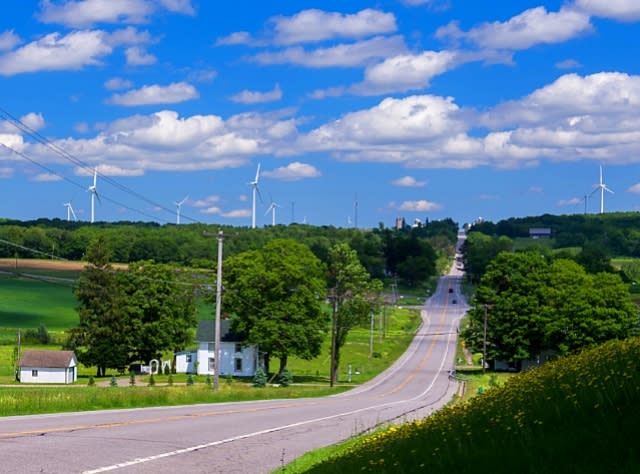 While New York State is home to the Big Apple, New York City, it also boasts irresistible charm as found in its small towns. Set amidst majestic mountains, featuring wonderful wineries, and close to all sorts of outdoor adventure, New York's adorable small towns offer visitors a place to relax and rejuvenate while enjoying the surrounding natural beauty. You'll discover great places to eat, one-of-a-kind shops, and easy access to some of the state's best outdoor experiences such as hiking, biking, boating, ziplining, and more! Plan your getaway to one of New York's amazing small towns today with this guide to some of the best locations in the state.
Saranac Lake (Adirondacks)
Situated on the banks of beautiful Saranac Lake and surrounded by stunning mountains, this village calls itself "The Adirondacks' Coolest Place," in reference to both its climate and great variety of fun and exciting things to see and do. Visit creative eateries, galleries, and shops, and enjoy cultural and arts events, all within a short drive to outdoor activities
Greenwich (Capital-Saratoga)
Enjoy the natural splendor of rolling hills, rushing rivers, and powerful waterfalls, in this small village. You'll discover many farms and farmers markets to shop, as well as great fishing and canoeing on the Battenkill River.
Narrowsburg (Catskills)
This charming hamlet on the banks of the Delaware River is the perfect destination for a Catskills small town retreat.
Chittenango (Central New York)
Named for Oneida's creek—Chu-de-naag, meaning "Where waters run North"—this town is home to the beautiful Chittenango Falls State Park, and is also the birthplace of L. Frank Baum, author of "The Wonderful Wizard of Oz."
Westfield (Chautauqua-Allegheny)
Travelers looking for fun and adventure will discover hundreds of terrific recreational opportunities, from fishing to sailing and golfing to water skiing, on the shores of Lake Erie in the Town of Westfield. Lovers of art and culture can take in concerts, browse galleries, and attend theater and dance performances.
Canandaigua (Finger Lakes)
Just 24 miles south of Rochester, this charming town on the northern shores of Canandaigua Lake, whose name means "the chosen spot," is perfect for an active but relaxing getaway any time of the year.
East Aurora (Greater Niagara)
Discover where America's Arts and Crafts movement began over a century ago, the Village of East Aurora, which continues to embrace a creative vibe today. Located 20 minutes from downtown Buffalo, East Aurora is full of distinctive attractions, from the only house built by a U.S. president with his own hands to a family-owned 5 & 10 store, as well as a variety of cafes, boutiques, and restaurants.
Goshen (Hudson Valley)
Recently named one of the 15 Best Small Towns to Visit this year by Smithsonian magazine, the Town of Goshen is the home of New York State's hot new attraction, LEGOLAND® New York Resort, the largest LEGOLAND® theme park in the world, and the ultimate theme park destination for kids ages 2–12 and their families.

Sag Harbor (Long Island)
For small town charm on Long Island, the Village of Sag Harbor, nestled on a bay in the heart of the Hamptons, enchants with gracious accommodations, pristine beaches, and centuries-old streets lined with ancient trees and inviting homes. Sag Harbor is home to destination restaurants and shops that offer fare from around the corner or around the world.
City Island (New York City)
For a truly unique small town experience in New York City, head to City Island, a quaint seaside escape in The Bronx. This fishing village, which feels more like a New England resort than a city neighborhood, is home to old Victorian homes (be sure to see the NYC landmark Schofield House, built in 1840 and the oldest home on the island), several yacht clubs, and waterfront restaurants.

Alexandria Bay (Thousand Islands-Seaway)
Alexandria Bay, situated amidst the gentle waters of the St. Lawrence Seaway, is a wonderful destination. This sportsman's and boater's paradise is surrounded by the region's most amazing islands. Discover Boldt Castle's timeless story of love on Heart Island. On Dark Island, tour the intricate architecture, beautiful furnishings, and puzzling secret passages of the magnificent 100-year-old Singer Castle. Take an Uncle Sam Boat Tour along Millionaire's Row and see inspiring seaside homes. There are also two historic lighthouses if you want to get a better view of both the area's history and scenery.

Find out more at: ILoveNy.com