Thursday, May 6, 2021 / by Bell Home Team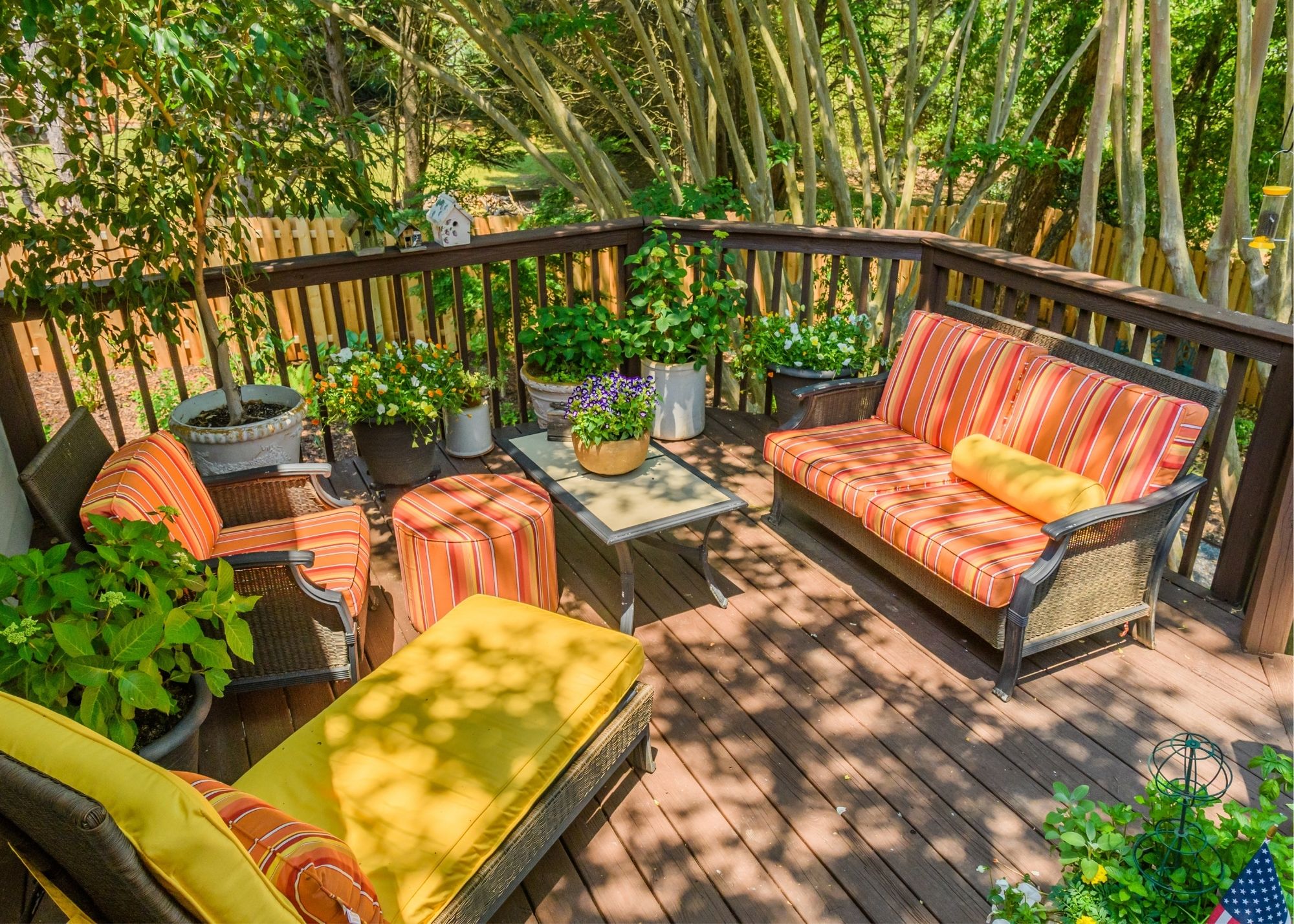 As we head into summertime in Central New York, we are all thinking of ways to maximize our space at home. Think about enjoying a nice summer night outside with friends, right at home! Here 10 tips on how to elevate your outdoor space to create your own oasis: you will not want to leave home!
Gathering the right gear ahead of time so your family and (a few) guests are comfy means you'll enjoy the great outdoors for longer.
1. Fire pit
"Outdoor fireplaces or fire pits are a big win once the sun goes down and the weather cools off," says Marty Basher, a home design and organizational expert at Modular Closets. Choose the best option for your space based on your budget and the square footage in your yard. And don't forget to pick up a set of extra-long skewers for s'mores. (They're not just a summertime treat!)
2. Heat lamps
Make like a European sidewalk café and set up standing propane or electric heat lamps, says Basher. Or consider installing an infrared heating device in your porch ceiling.
"These are a step up from traditional gas options and much sleeker and safer—and streamlined models can be inserted so that they heat a person directly, not the elements around them," says Cummings.
Consider a patio heat lamp or portable heater… or for maximum coziness, you can even find heated furniture.
3. Plush cushions and blankets
No one wants to sit on cold, wrought-iron or plastic deck chairs when the weather turns chilly, so be sure seat cushions and outdoor pillows are thick enough for the season. And a basket full of warm throws is another cozy touch.
"Wool blankets are the best for regulating temperature, especially lightweight merino or cashmere ones, which make lingering on the patio or in the yard luxurious," says Cummings.
4. Privacy screen
Blocking the wind in cooler weather is easy enough with the addition of a wooden wall or screen, says Cummings. Or consider latticework, a cheaper pick that can also surround or partly enclose a patio or one side of a balcony.
How about an outdoor screen that tricks the eye—is it a floral design or zebra? Either way, the abstract design offers privacy and a visual element for a very fair price.
5. Curtained pergola
A pergola or gazebo is another upgrade that can take your outdoor space from summer to fall, especially if you add curtains that can be drawn when the temperatures dip.
"Pergolas give your outdoor area the feeling of a more permanent room—and for some of these, you can add a removable roof to expand its use when the weather isn't ideal," says Basher.
6. Small cooktop
"While a full outdoor kitchen may not be in the budget, setting up a grill or small cooktop may be doable—and there are free-standing countertop and sink combos available for under $500," says Basher.
You might also redo an outdoor bar cart to signal fall and cooler temps (think mugs for tea, a jar of cinnamon sticks for warm cider, and brown spirits for Manhattans and hot toddies).
7. All-weather rugs
To keep your feet toasty, add a layer underfoot to warm an outdoor space. All-weather rugs can stand up to the elements, particularly those made from polypropylene. Just keep in mind that carpet with a thick pile won't work on a deck or patio. Be sure to use a nonslip rug pad underneath to prevent shifting, and rotate this carpet so any color loss over time is evenly distributed.
8. Extra lighting
Candles and outdoor lamps won't add warmth per se, but the ambiance they offer is enough keep the chill away. You can't really overdo outdoor lighting, so go a little nuts with twinkling lights wrapped around pillars, glowing lanterns that act as side tables, Mason jars with tea lights suspended from above, and Tiki torches placed strategically in the yard.
9. Covered daybed
Get warm in an outdoor daybed that's dressed with faux fur blankets and soft pillows. You'll also stave off the breeze with an option that features retractable blinds or side panels.
10. Small shed
Want to splurge on a real structure? "Studio sheds have become all the rage of late, and they're very versatile," says Basher. Warm up in a she shed for some me time or use it as an office, homework space, crafting spot, or meditation area.
Thinking of putting any of these ideas to use this summer? We would love to see what you create! Send us a message here.

(Article via Realtor.com)