Thursday, November 10, 2022 / by The Bell Home Team
That twice-annual clothing swap is upon us! And sometimes it's a dreaded chore.
Hauling apparel from one spot to another is something we often put off until the last possible minute—and when it occurs in the fall or early winter, you're left literally shivering as you dig through your woolens.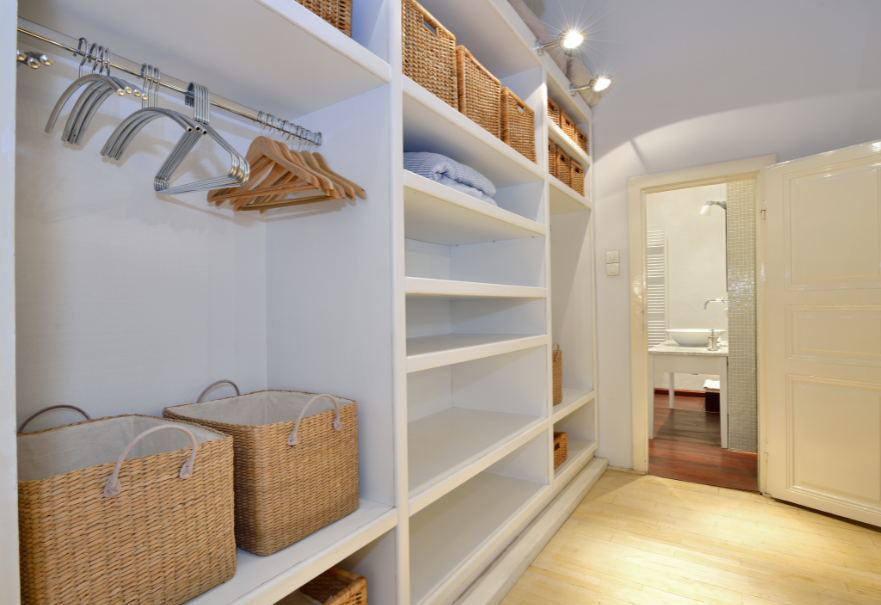 However, swapping out your closet as the temperature changes is a smart move, organizationally speaking, says Katie McCann, a professional home and office organizer at Haven.
It can streamline your mornings. By having the correct clothing front and center, you won't have to paw through lightweight summer items to find your suede jacket and faux fur muffler.
For some help with this sometimes challenging task, here are six smart tips you can try as you approach sweater weather.
1. Start sorting
"Anytime you can go through the process of touching and assessing your clothes, it's a great exercise—you can see what no longer works with your lifestyle or has simply worn out," says McCann.
You can get a good assessment of your closet by pulling out your summer togs and taking a hard look at them. Remove last season's things and lay them on the floor before you put them back or place them in a different closet.
As you sort through them, make two piles—one is to keep and the other is to donate. Once you've got the clothes you still want in front of you, decide what needs cleaning or repairing in the keeper's pile.
2. Keep all-season clothes handy
Not every item should be included in your seasonal clothing swap this fall and early winter. For example, certain all-weather basics you use for layering—like solid white and black tees—should remain in the closet or nearby drawers so you can wear them anytime.
The same holds for some shoes like loafers and flats that you wear to work as well as slippers for around the house.
3. Do a deep clean
With a somewhat emptied storage space in front of you, now's an excellent time to clean the shelves and floor of your closet. Use a damp cloth with a spritz of cleanser and wipe down all of the surfaces. Next, vacuum the floor well, particularly the back corners.
You might also assess (or upgrade) the hangers you've been using and see if any are badly bent and need recycling.
"Most wire hangers ruin tops' sleeves, stretch sweaters, and aren't sturdy enough for jeans, so invest in nonslip velvet ones," advises Lisa Davis, a content creator at RetailMeNot.
Too many hangers at your house? Check in with your local dry cleaner as this business may be happy to take them back for future use.
4. Divide and conquer
McCann is a proponent of dividing her clothing in her own (small) closet so the items are quick to find and swap each spring and fall.
"I try to keep my off-season clothing on the top shelf of my closet so it's easy to switch out, and I keep everything in clear bags," she says.
If you're a bin person—and you have the space in your closet—you can certainly purchase a set of those to store your items. McCann goes green, however.
"I reuse those plastic zipper bags that comforters and pillows come in," she shares.
Davis votes for actual closet dividers as they cordon off sections and make your closet look prettier.
"Amazon has ones like the department stores use, or you can get dividers in different colors or with the seasons' names written right on them," she adds.
Or save shoeboxes, suggests Davis.
"These leftovers from your new shoes make for cheap storage and they stack nicely," she notes.
Label the boxes for your actual shoes, or corral belts, scarves or other accessories inside.
5. Label everything
Labeling your basket or bag of T-shirts and shorts is a must, says McCann.
"Or use any system that prompts you to know these things are not your current clothes," she says.
Again, you want to save yourself some time and hassle as you approach your closet every day. Without labels, you won't know where your turtlenecks and cozy socks are.
6. Consider a scent
Just as you would in other parts of your home, seasonal closet swapping can include a scent that evokes fall and winter. (Just imagine how nice it'll smell when you open the door!)
Add a closet scent with a small essential oil diffuser or put in a couple of sachets filled with potpourri (but never a lighted candle, of course!). Choose the smell that says "autumn" to you—perhaps pumpkin spice, apple, bergamot, cinnamon, fig, or vanilla.
Article via: Jennifer Kelly Geddes of Realtor.com